The Missing, il film stasera con Cate Blanchett su Rai Movie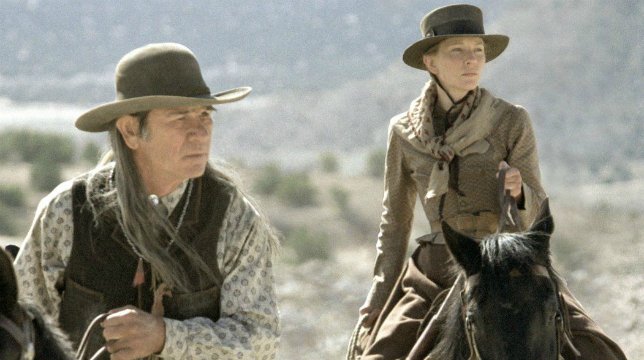 Va in onda stasera alle 21:10 su Rai Movie The Missing (2003), il film diretto da Ron Howard, con Cate Blanchett e Tommy…
---
Va in onda stasera alle 21:10 su Rai Movie The Missing (2003), il film diretto da Ron Howard, con Cate Blanchett e Tommy Lee Jones. Il film è un western molto crudo incentrato su un rapimento.
Nel New Mexico la vita di Maggie (Blanchett) e delle sue due figlie viene sconvolta. La maggiore Lily (Evan Rachel Wood) viene rapita dalla banda dello stregone psicopatico Pesh. Rimasta sola con la minore Doe, disperata, Maggie non potrà che fare affidamento sul padre che l'ha abbandonata decenni prima. Si tratta di Samuel (Jones), che lasciò la famiglia per unirsi agli Apache.
Basato sul romanzo di Thomas Eidson, The Missing è praticamente l'unico vero western nella carriera registica di Ron Howard, anche se Cuori ribelli (1992) già si avvicinava al genere. Si tratta di un racconto piuttosto violento, che forse non ci si aspetterebbe da un regista come Howard. Di particolare atmosfera è il ricorso al dialetto Chiricahua Apache: al momento delle riprese, erano rimaste solo tre persone in grado di parlarlo. Due di loro hanno aiutato nella pronuncia Tommy Lee Jones e Eric Schweig, interprete del villain. Affascinante la direzione della fotografia di Salvatore Totino, che avrebbe poi collaborato con Howard anche per Frost/Nixon (tra gli altri).
---
---
---